From a true friendship…
The friendship between Christian Louboutin, Idris and Sabrina Elba is one of laughter, joy and mutual respect. Upon meeting several years ago the trio struck an instant kinship that goes beyond public appearances, one that is built on solidarity and shared values.
… to celebrating hope & empathy
The global outcry that occurred in May 2020 sparked a worldwide conversation about privilege, systematic injustice and racism Idris and Sabrina felt compelled to add their voices, and as a visible Black couple they spoke candidly about global inequality and shared their first hand experiences of discrimination. Using their social media platforms as a vehicle to call for change, the couple engaged in an Instagram live discussion with one of the co founders of the Black Lives Matter movement, Opal Tometi. They were unaware that Christian was listening in at the time and after the talk he expressed to them how powerful, moving and hopeful he had found their discussion
"I'm proud of you, and I'm here for you"
he told them.
Taking the thought-provoking conversation offline, the three friends were certain that they wanted to give back in a way that would be truly impactful.
To raise awareness directly benefitting the lives of the individuals and communities whose voices matter yet are often unheard, they looked to historic leaders Martin Luther King Jr and Nelson Mandela.
Their dedication to the fight for justice, equality and freedom offered design inspiration.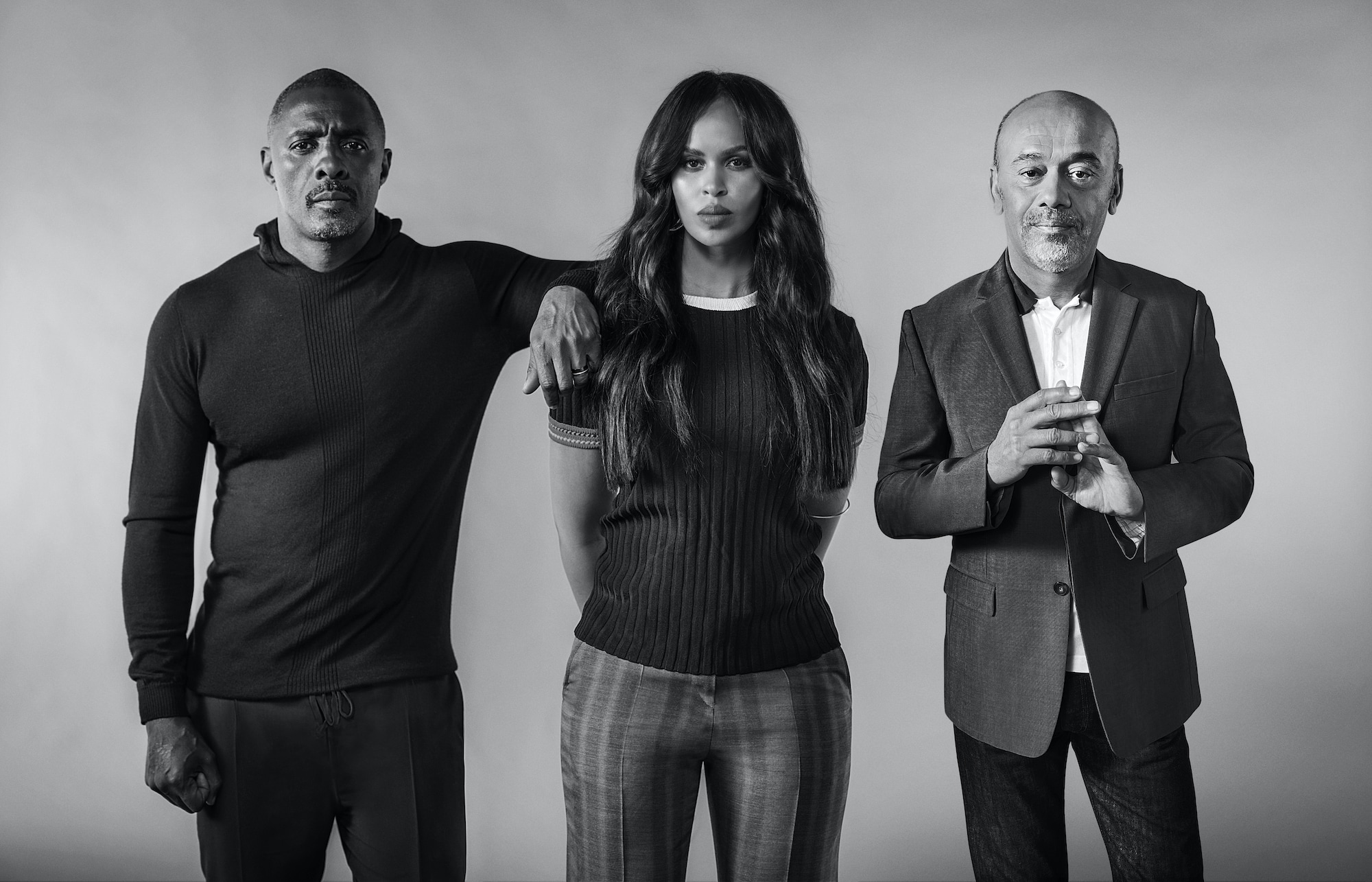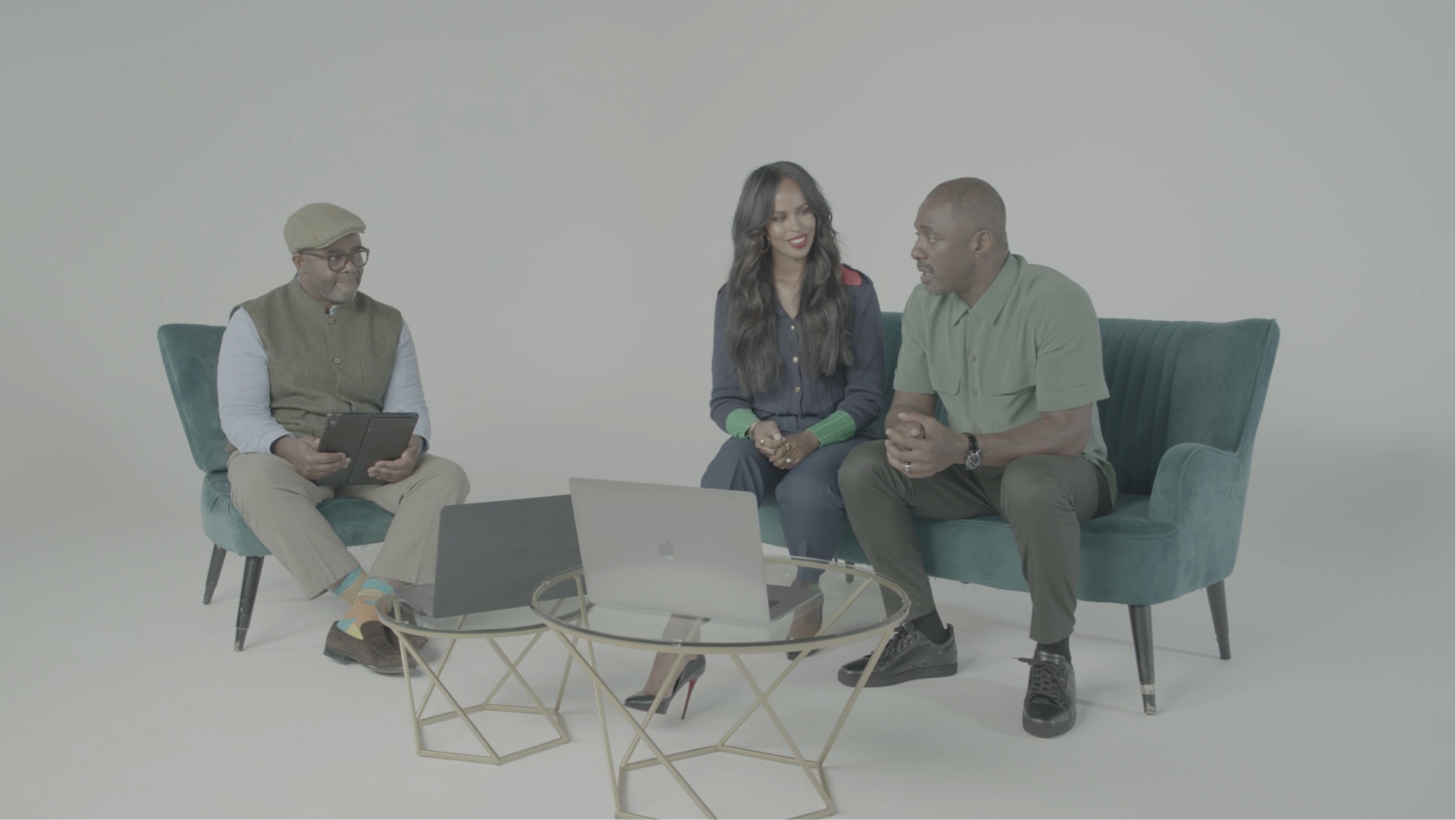 …TO A MEANINGFUL COLLECTON
This inspiration was channelled into co-creating an uplifting two-chapter collection. The collection features styles showcasing Strelitzia reginae "Mandela's Gold" a beautiful plant that has come to symbolise empathy, hope and freedom Another highlight is the powerful statement Walk A Mile In My Shoes.
This line appears in a script motif evocative in Louboutin red. It originates from a visit Idris paid to the Martin Luther King Jr memorial in Los Angeles. The trio are not suggesting that anyone walks a mile in their shoes, but instead to consider the motto as a call to action. A call to support the victims of police brutality and racial injustice in the United States, small farmers and their children in Somalia, disconnected underserved youth in England and orphaned children and young girls in Sierra Leone.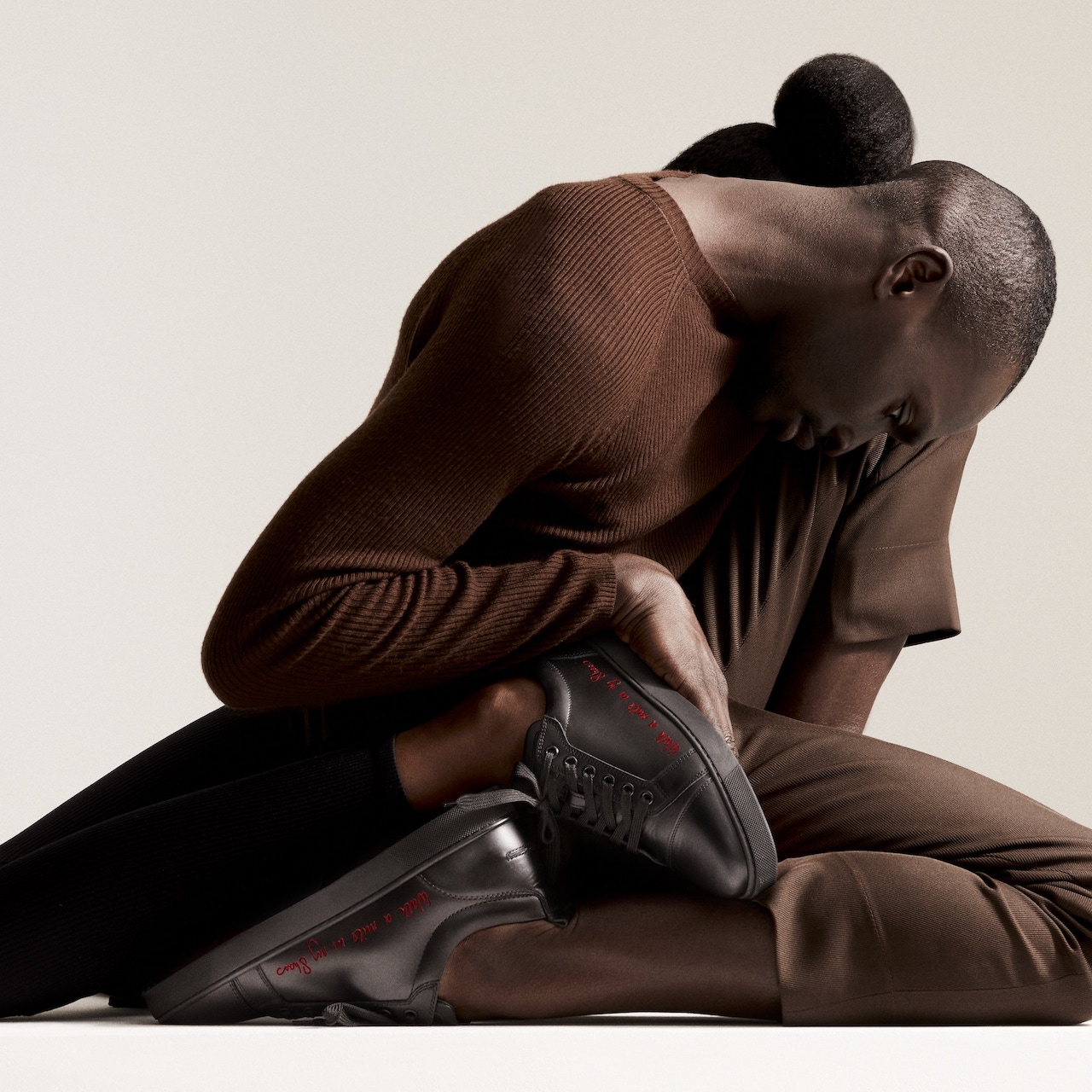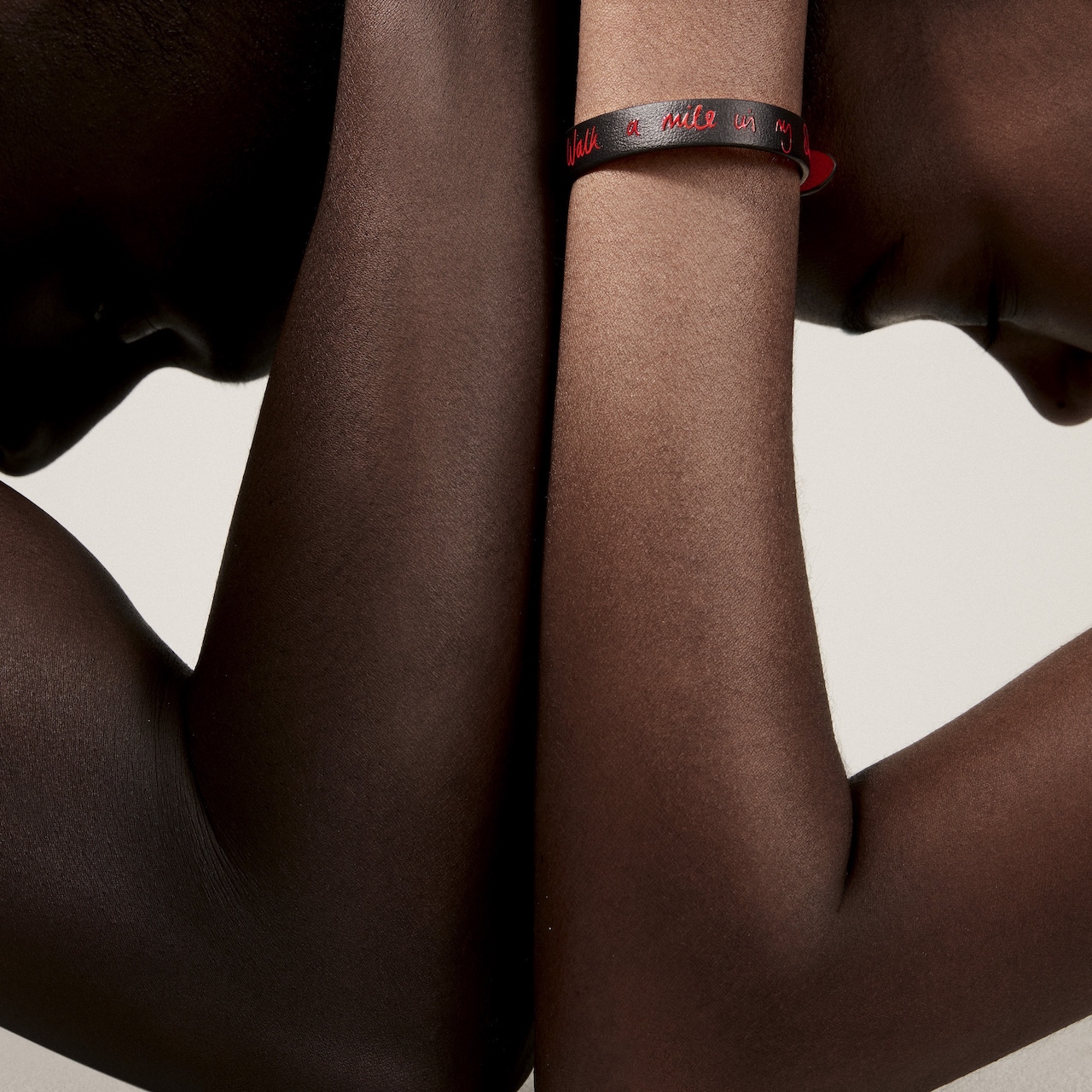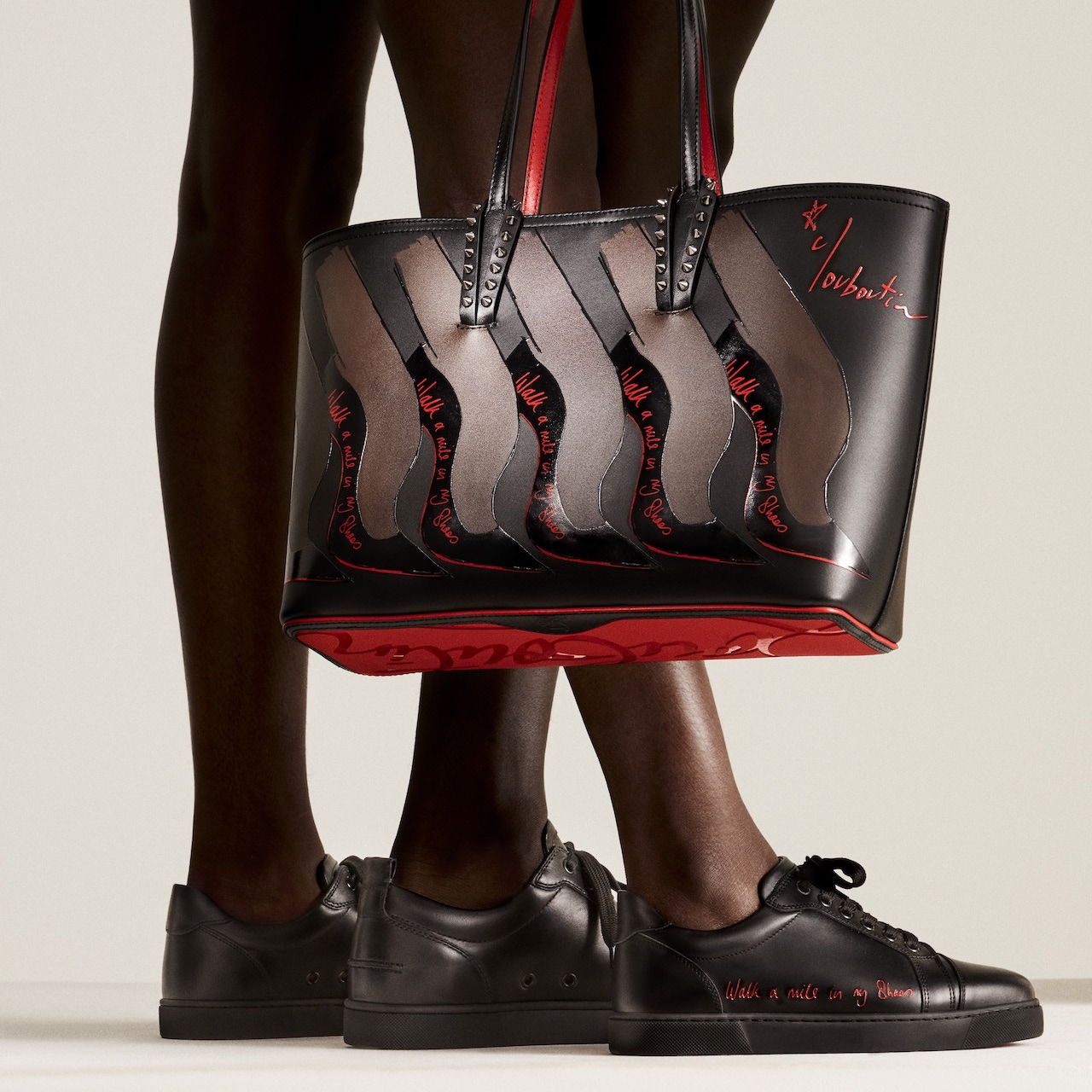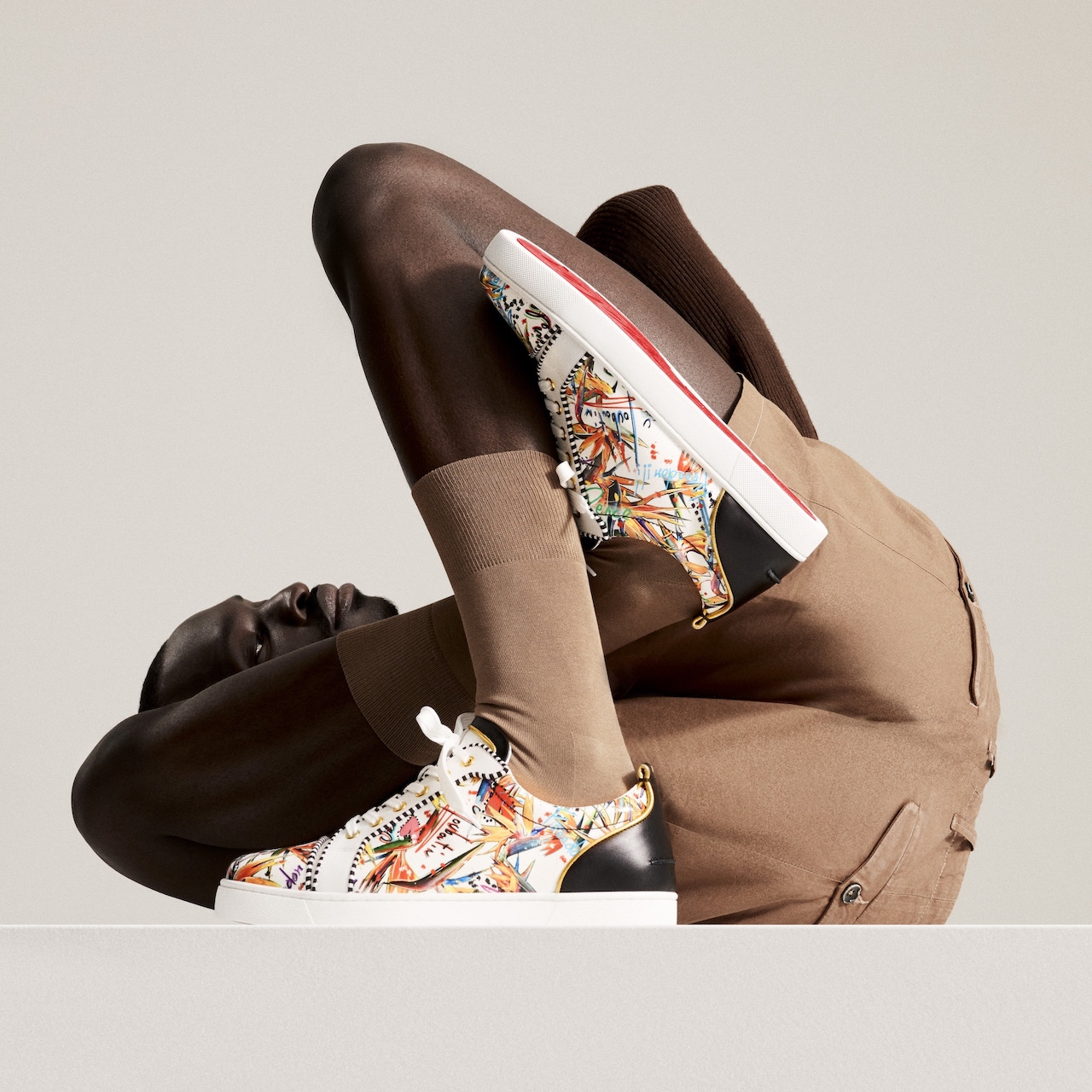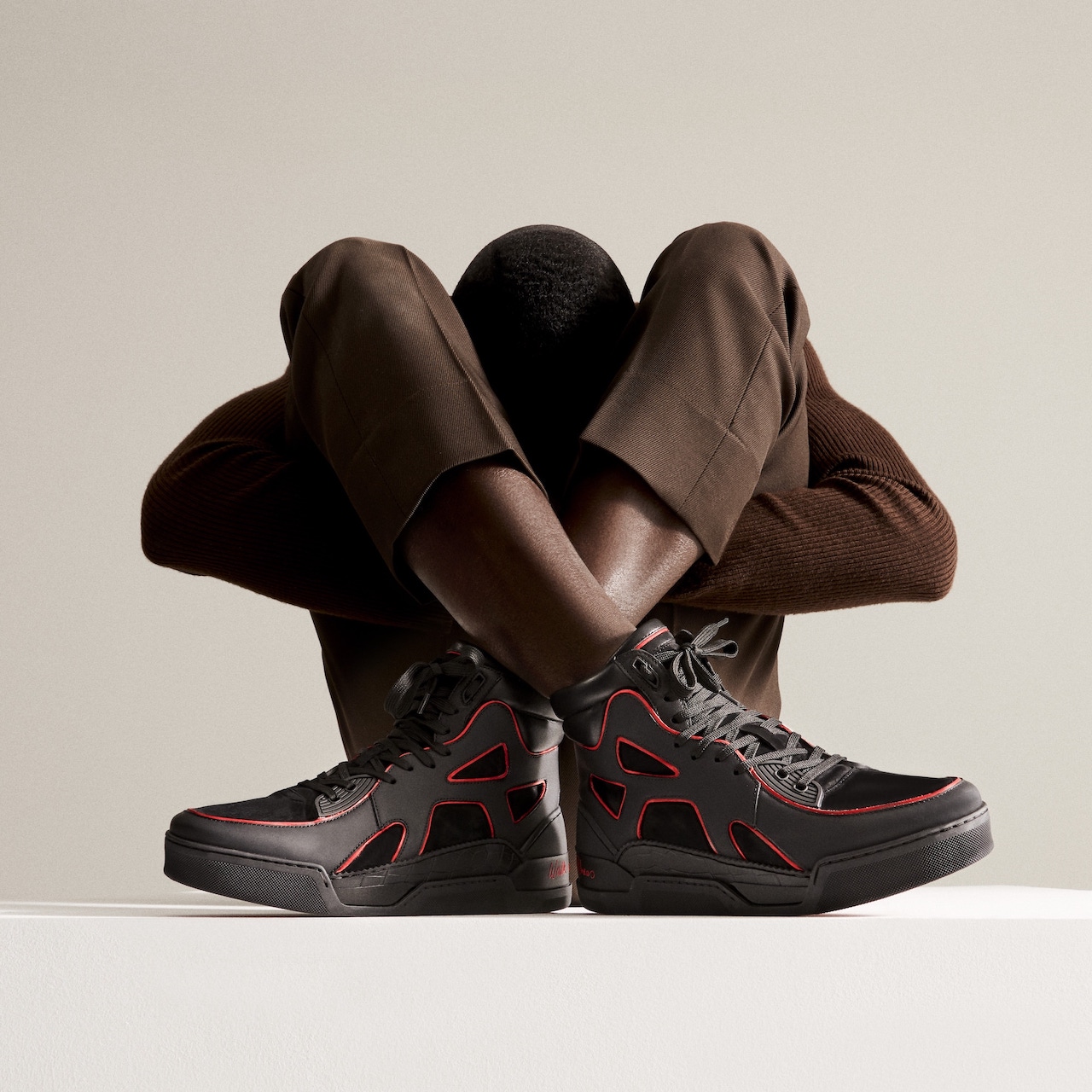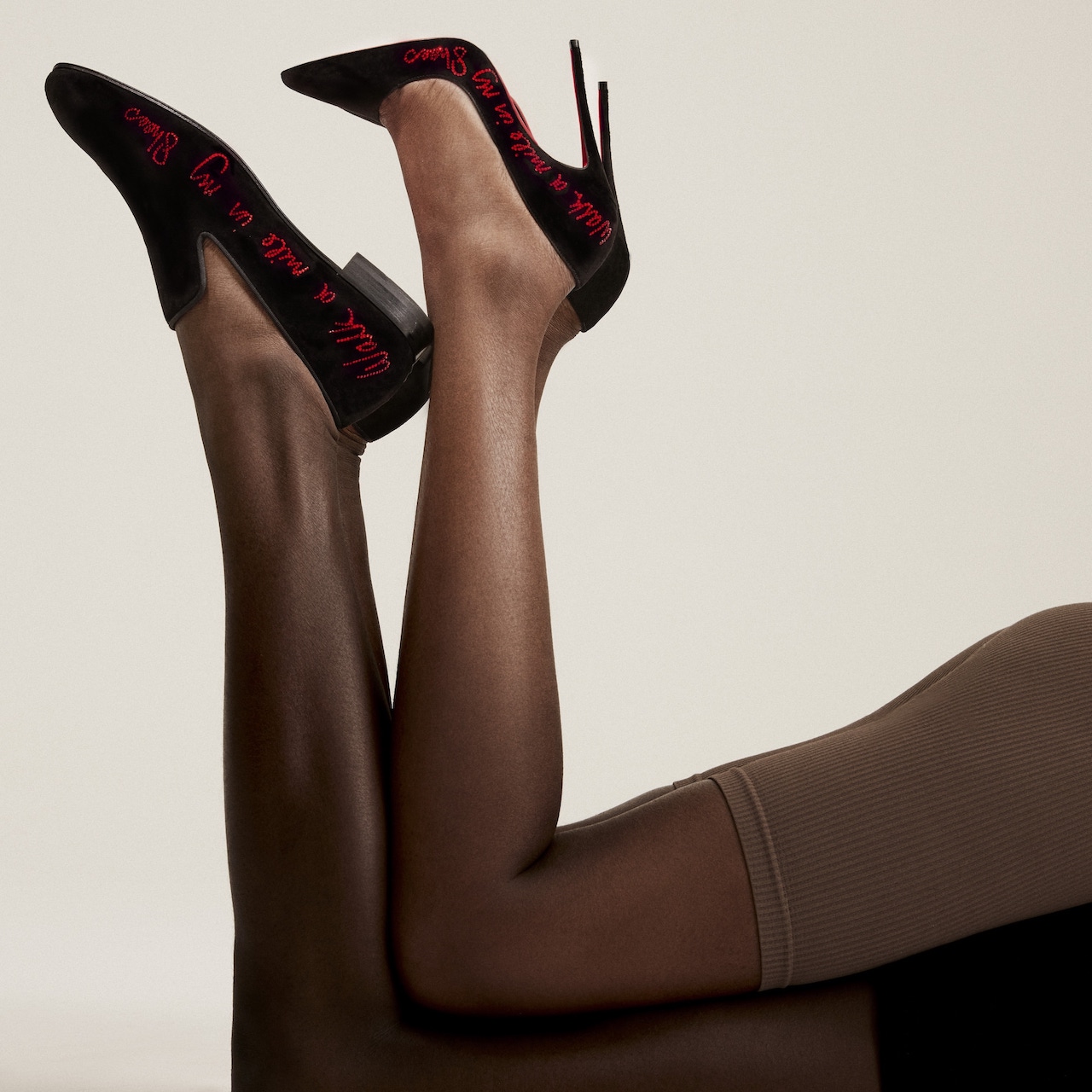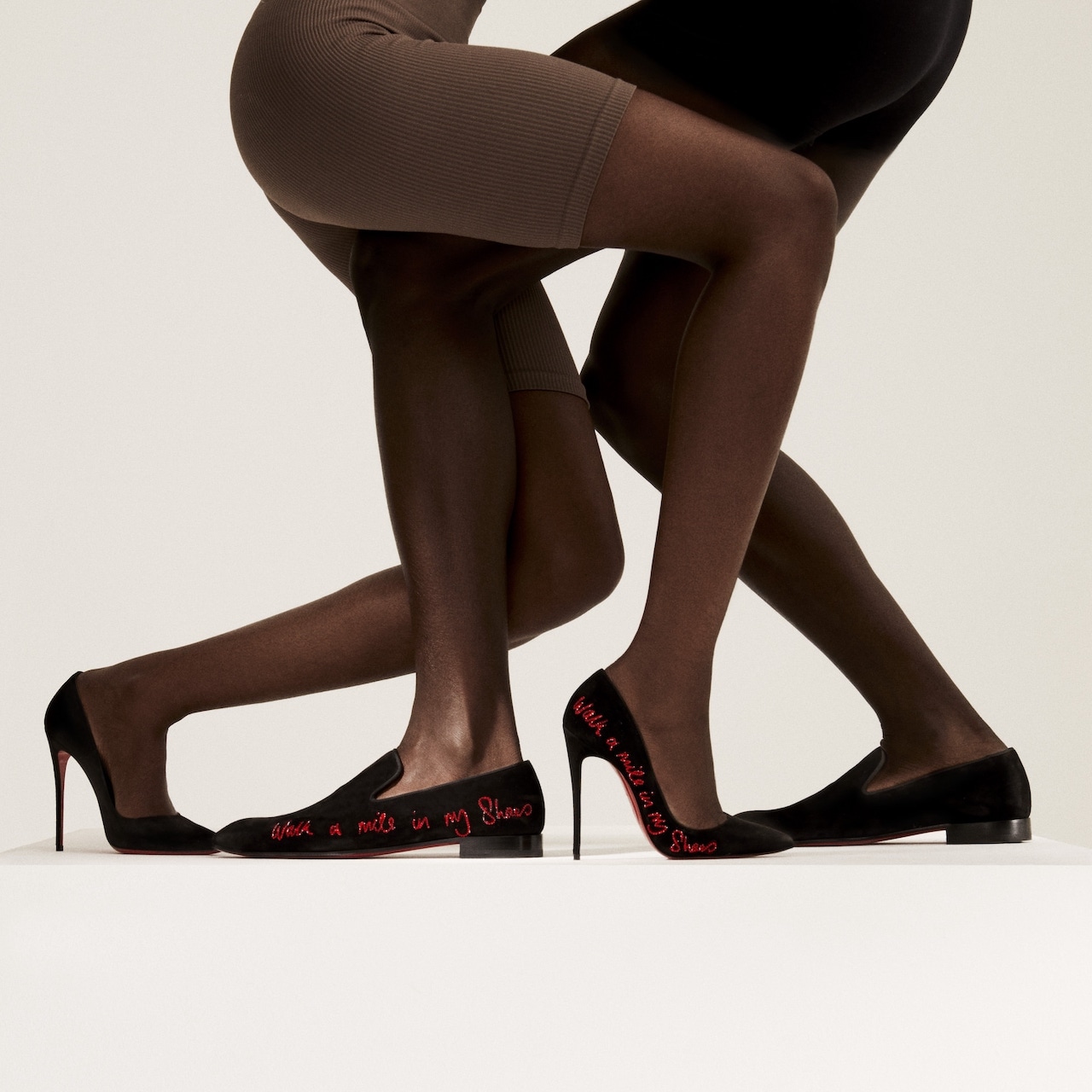 For Christian and the Elbas it is important that they use their positions to champion organisations who are already creating an unbelievable difference to those within their communities.
A hundred percent of the proceeds made from this collection will go directly to five non profit organisations.
Humanitarian relief charity Be Rose supports vulnerable people in need of emergency assistance and empowers widows to care for their families through agribusiness. Close to Idris's heart and rooted in his Sierra Leonean heritage, Purposeful is a grassroots organisation that provides mentorship for girls.
Idris's patronage of The Immediate Theatre in East London reinforces the message that access to the arts should be available to all Sabrina's roots are reflected in The Somali Hope Foundation continued efforts to provide access to education for underprivileged children Founded by Harry Belafonte, Gathering for Justice mission to end child incarceration, centering nonviolence as a foundation for civic and social justice engagement, makes it an organisation that is close to Christian's heart.
The friends want to instigate meaningful change through practical solutions They are optimistic that the action taken by individuals and communities alike will help to steer a strong course towards
a global message of equality and,
as Christian notes:
"A true sense of responsibility"
…ABOUT THE CHARITIES
The Gathering for Justice is an organization founded in 2005 by Harry Belafonte after he witnessed a news report of a 5 year-old black girl being handcuffed and arrested in her Florida classroom for "being unruly". The Gathering for Justice's mission is to build a movement to end child incarceration while working to eliminate the racial inequities that permeate the justice system.
Proceeds from Capsule Elba will support Justice University, an intergenerational, intersectional and intercultural movement school for the 21st century, organized by The Gathering for Justice. The curriculum is designed to deepen social thought while also uplifting people who've been directly-impacted by injustice as the experts and teachers. Whether it's courses in Black liberation, Chicana feminism, organizing 101 or Kingian Nonviolence, the Justice University curriculum provides a foundational basis and connection to the legacy of the past needed in order to move forward collectively.
Established in 2016, Purposeful is a feminist movement-building hub for adolescent girls.
They amplify girls' voices, resource their resistance, build solidarity between and across girls' movements, catalyse collaborative philanthropy and support innovation in grassroots programming with and for girls.
Proceeds from Capsule Elba will support the Karo Kura Girls Circles across Sierra Leone. Girls Circles is a young women mentor led safe space program that supports 15,000 of the country's most marginalised girls – including teenage mothers and girls living in very rural areas without school access. The initiative is underpinned by the Karo Kura media platform, a weekly radio drama and talk show rooted in Sierra Leonean culture that is changing beliefs and behaviours about girlhood a scale. The radio content is accessed by girls andmentorsinthesafespacesof specially distributed smartphones, and by an additional 500,000 community members across the country.
Since 2008, the Somali Hope Foundation (SHF) has been dedicated to providing access to free, quality, and equitable education to youth in rural Somalia. They are a Canadian charity committed to bringing hope through education.
Proceeds from Capsule Elba will support the Somali Hope Academy, founded in 2012 in Bursalah, Somalia to provide free education to the over 700 students enrolled. In 2021, they are celebrating their first graduating class. Proceeds will also be directed to their Community Education Committee (CEC) which works with local groups to offer a range of programs that includes CPR/First Aid, basic adult education, vocational training, health and hygiene courses, assistance with disaster relief, breakfast programs, and a well to provide clean water.
Based in Maryland, USA, with offices in Nigeria and Sierra Leone, West Africa, Be Rose International Foundation, Inc. was established in 2012 with a clear and singular vision: "To provide hope for people who have given up on life and believe they simply cannot make it."
They provide humanitarian relief for people in need of emergency assistance such as providing food pantry, rental & utility assistance to the vulnerable in the USA.
Proceeds from Capsule Elba will support Be Rose's Flagship Free Breakfast program in Sierra Leone to ensure a nutritional morning meal for students whose parents cannot afford the expense. It will also support the Agribusiness program for widows, an empowerment project aimed to achieve two broad objectives; uplift the lives of widows and their families, and enhance food production to curb hunger, food insecurity, and poor health.
Established in 1996, Immediate Theatre works with young people and communities in Hackney and East London to ensure access for all artsall to arts activities that break down barriers and engage people in debate. Immediate Theatre's vision is for a society where questioning, articulate and motivated people create and collaborate to build thriving communities.
Proceeds from Capsule Elba will support Can I walk in your shoes? a multi-disciplinary arts production that will explore the hopes and dreams of young people living in poverty in Hackney, East London and identify the barriers they face to achieving their aspirations. Using theatre, film, and social media youth will explore the still prevalent social injustices they experience, and in doing so they will identify a future that has purpose and prosperity.
We hope you enjoy the
Walk A Mile In My Shoes collection.
More importantly, we hope that you will join us in supporting these incredible organisations dedicated to make meaningful change.